Learn to Dance Online!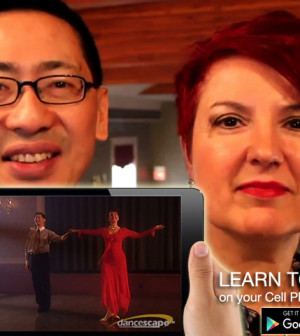 Powered by danceScape™, dancescape.TV will provide the best in online video-based dance learning for students, as well as teacher training for those wanting to start a dance career or business, or to be a dance host.
Online Learning is available for eligible classes as "Pay Per View" or as part of of dS Video App that is included in all flexplans, or purchased separately for 5 month access, monthly, or annual.
Video App – 5 Month Access ($47/class)
Video App – Full Access ($14.97/mo)
Video App – Full Access ($147/yr)
danceScape's "for absolute beginners" ballroom dancing online video learning series is also available for "Pay Per View" on dancescape.TV and covers all the basic steps needed for any social dance situation – whether Waltz-ing at a Wedding, Foxtrot-ing to a Jazz Band; Swing-ing to a New Year's Eve Big Band; or getting up to Tango, Cha Cha, or Salsa at a local Latin Club.
You will learn the basic "Standard" Dances such as Social Foxtrot (Basic Zig-Zag Travel Pattern, Turning Corners), Waltz (Basic Box Step, Basic Zig-Zag Travel Pattern), and Tango (Basic Tango Walks, "Dip/Lung & Rock"), as well as "Latin" Dances such as Salsa, Cha Cha, Rumba, and Jive/Swing. There are also tips about correcting posture, dance floor etiquette, and the art of leading and following.
Absolute Beginners can finally cure their two left feet by following simple and easy-to-learn instruction from expert instructors, Robert Tang and Beverley Cayton-Tang. "For Absolute Beginners Only Ballroom Dancing" is based on Robert and Beverley's popular group workshops which continue to sell out.
The Tangs have appeared on many television shows throughout Canada and the US. They were Guest Dance Instructors on "Groomed" with host Paul Hogan (best known for his show-stealing performance in the hit reality series "Joe Millionaire) on the W Network, as well as "The Truth About the Sexes" on the Life Network and Discovery Health USA. In January 2007, they will appear as Guest Dance Instructors in "Save Us From Our House" on the W-Network, and "Till Debt Do Us Part" on HGTV & Life Television Networks.
Visit www.dancescape.TV.