Dance Champions "CHA CHA" With Billionnaire on CBC Newsworld's "Fortune Hunters"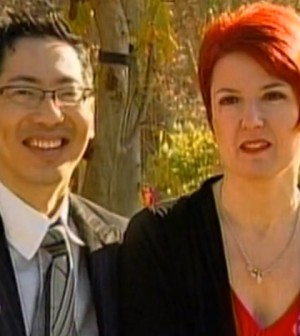 TV Show follows Burlington's Robert Tang & Beverley Cayton-Tang as they pitch their company, danceScape, to Hotmail and Skype Venture Capitalist, Tim Draper.
Never in their wildest dreams did two Ballroom Dancers imagine that they would one day have the opportunity to pitch their company, danceScape, to Tim Draper, the same Billionnaire Venture Capitalist who invested in Hotmail and Skype, and who guided their founders towards acquisition by Microsoft and eBay.
Or that they would teach him to dance the Cha Cha.
Remarked Robert Tang, "The experience was nerve-wracking, to say the least, and for the first time in a very long time, I experienced stage-fright.  We had to rely on our collective experiences as former World-Class Dance Champions to try to pull ourselves together for this once-in-a-lifetime meeting with one of the world's top business minds."
Dreaming big, taking risks, and overcoming challenges are nothing new for Robert and his wife and business partner, Beverley Cayton-Tang, who are former 3-time Canadian and 2-time North American Undefeated Amateur Standard Ballroom DanceSport Champions from Burlington, Ontario.
They defied odds when they won their first Canadian Championships in their early thirties, beating younger upstart teams who were in their teens and twenties. Their jaws dropped when they won their first North American Championships, taking the title away from other younger, more-established American teams.  They made history by becoming the first and only "mixed race" team to ever become national champions, representing Canada at 5 World Championships (Robert is originally from Kuala Lumpur, Malaysia, and Beverley from Manchester, England).
And they both gave up successful "Corporate" careers to follow their passion and start their own dance studio and ecommerce-based dance supply business, at a time before "Dancing with the Stars" and "So You Think You Can Dance" made ballroom dancing popular in North America.
"Many people probably thought I was 'crazy', especially after graduating with an MBA from a prestigious business school and on the fast-track to a corporate career in marketing for a computer software company headquartered in Boston," chuckled Robert.  "You could say that I was partly influenced by the Japanese movie, 'Shall We Dansu?' which explored the journey of a person who felt that something was missing in his work life, and discovered what it meant to live life through competitive Ballroom Dancing.  Perhaps ours is the continuation of that journey!"
It was their unique story and risk-taking attitude that not only attracted the interest of Billionnaire Tim Draper, but also the producers of CBC Newsworld's new business show, "FORTUNE HUNTERS".  Created by Dianne Buckner, long-time host of Venture and current host of Dragons' Den, along with award-winning Venture show producer and VJ James Dunne, FORTUNE HUNTERS focuses on trends through the lens of moneymaking – discovering how people eager for self-employment are exploiting new opportunities or popular trends.
Two business experts are called in to assess the trend and odds of success for the Fortune Hunters. Then experts also play HIT or MISS with Dianne, a fun and fast quiz of trend news from around the world.  Plus, the program introduces a business brain who's made it big in a success segment entitled, "My First Million."
Stated Beverley, "Our vision is that Dance or Dancing is more than just a recreational hobby.  It is a Lifestyle that provides inspiration for people of all ages to overcome fears, to discover and explore new life goals, to acquire social etiquette skills, and to connect or reconnect with others in the spirit of learning and friendship."
danceScape has achieved record enrollments in their "For Absolute Beginners Only" Ballroom, Latin, Salsa, and Swing group workshops, as well as their low-impact "danceTONE" dance-based fitness program.  In an effort to meet continuing demand, not only in Burlington but also in other cities, they are launching a teacher training program to certify instructors of all ages who want to join their growing instructor team.
"The producers also wanted to focus on our attempts to obtain national retail distribution of our instructional DVD," remarked Beverley. The 2-DVD set is entitled "danceScape For Absolute Beginners Ballroom Dancing" and covers the basics of the Foxtrot, Waltz, Tango, Cha Cha, Rumba, Salsa, and Jive/Swing.  The Tangs secured a US distributor, and their DVDs are now available through Amazon, Best Buy USA, Barnes & Noble USA, and other -American retailers.  The irony is that a national retailer does not yet carry the DVDs in Canada.  That may soon change as Reader's Digest Video Club atwww.readersdigest.ca has just agreed to carry the product and make it available in its catalogue later this year to millions of English and French members throughout Canada.
"One of the key challenges, to which many entrepreneurs can attest," remarked Robert, "is to try to prioritize and focus on key aspects of the business, especially when faced with so many opportunities. We hope that the guest expert panel will provide us with constructive feedback that may also help other entrepreneurs who are at the growth stage of their business.  We also hope that their critique won't be too painful!"
The good news is that as a result of their participation in the show, Queen's University School of Business in Kingston has offered the Tangs a scholarship to their Executive Development Centre.  Stated Robert, "It has been a very long time since I have stepped foot into a formal academic classroom setting, but I look forward to learning from and networking with other entrepreneurs who are as passionate about their business as we are with ours, and on the same quest to their company to the next level."  Robert will be sharing his experiences and business tips with other entrepreneurs in his new blog, www.robert-tang.com.
Tune in to FORTUNE HUNTERS this Saturday, March 8th at 6:30 p.m. and 11:30 p.m. ET, and Sunday, March 9th at 1:30 p.m. and 4:30 p.m. ET to find out if stage fright will ruin their pitch with Tim Draper, as well as how he will do in his Cha Cha lesson.  You can also catch FORTUNE HUNTERS on CBC's News Express service at Pearson International Airport in Toronto, Ottawa International Airport and Vancouver International Airport, as well as in flight on Air Canada.  A preview video clip of the show is available at www.dancescape.com andwww.dancescape.TV.
For more information about danceScape's adult and youth/teen programs, instructional DVD, or instructor training/certification opportunities, call (905) 633-8808 or e-mail [email protected].
 ###
About Robert Tang and Beverley Cayton-Tang
Beverley and Robert are former 3-time Canadian and 2-time North American Undefeated Amateur Standard Ballroom Champions, having represented Canada at five World Amateur Standard Championships.  They were consultants to the author of a book about competitive Ballroom Dancing entitled, "Ballroom Dancing: The Rhythm, Romance and Style" and were also featured in it.  They have appeared on many television shows on Slice, W-Network, HGTV and CH Television.  Robert has a B.Sc. from McMaster University in Hamilton, and an M.B.A. from the Schulich School of Business in Toronto.
###