Continental Dance Club EXTRAVAGANZA, Mississauga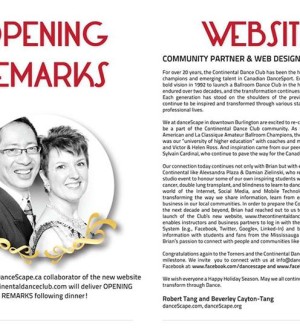 danceScape's Robert Tang & Beverley Cayton-Tang are pleased to have assisted the Continental Dance Club in the development of their new website. Brian Torner is Director at the Continental in Mississauga, and is spearheading new programming initiatives. The Club offers social events as well as Private, Group and Wedding Dance Lessons in Mississauga, Ontario (Dixie at Dundas).
EXCERPT FROM THE CONTINENTAL DANCE CLUB EXTRAVAGANZA SOUVENIR BOOKLET
For over 20 years, the Continental Dance Club has been the home to both established champions and emerging talent in Canadian DanceSport. Ernst and Ursula Torner's bold vision in 1992 to launch a Ballroom Dance Club in the heart of Mississauga has endured over two decades, and the transformation continues today with Brian Torner. Each generation has stood on the shoulders of the previous generation, and all continue to be inspired and transformed through various stages of our personal and professional lives.

We at danceScape in downtown Burlington are excited to re-connect with Brian and to be a part of the Continental Dance Club community. As former Canadian, North American and La Classique Amateur Ballroom Champions, the Continental Dance Club was our "university of higher education" with coaches and mentors like Ann Harding and Victor & Helen Ross. And inspiration came from our peers like Brian and Tanya & Sylvain Cardinal, who continue to pave the way for the Canadian Ballroom industry. Our connection today continues not only with Brian but with emerging talent from the Continental like Alexsandra Plaza & Damian Zielinski, who recently performed at our studio event to honour some of our own inspiring students who had overcome breast cancer, double lung transplant, and blindness to learn to dance.

We live in a brave new world of the Internet, Social Media, and Mobile Technology. And these are all transforming the way we share information, learn from each other, and do good business in our local communities.

In order to prepare the Continental Dance Club for the next decade and beyond, Brian had reached out to us to assist in setting up the launch of the Club's new website, www.thecontinentaldanceclub.com. The website enables instructors and business partners to log in with their favourite Social Media System (e.g., Facebook, Twitter, Google+, Linked-In) and begin sharing news and information with students and fans from the Mississauga and surrounding areas. Brian's passion to connect with people and communities like ours is inspiring.

Congratulations again to the Torners and the Continental Dance Club members for this milestone. We invite  you to connect with us at [email protected], or through Facebook at www.facebook.com/dancescape and www.facebook.com/dancescapetv.

We wish everyone a Happy Holiday Season. May we all continue to live, love, laugh, and transform through Dance.
Robert Tang & Beverley Cayton-Tang
danceScape.com, danceScape.org
Please contact us if you are interested in some fun Social Outings at our Social Events Partner, the Continental Dance Club, 3141 Wharton Way, Mississauga, ON. They recently launched a Dance EXTRAVAGANZA on Saturday, December 14th. Visit www.thecontinentaldanceclub.com or www.facebook.com/thecontinentaldanceclub. Please E-mail [email protected] or call 905 633-8808.