Chi (Qi) Gong Open House at Toronto Botanical Garden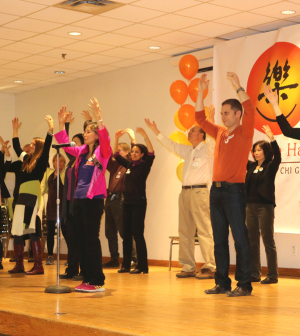 Photos are now available at www.facebook.com/dancescapeTV from The Seventh Happiness School of Chi Gong that took place on Sunday, November 16 from 3:00 – 6:30 pm at Floral Hall, Toronto Botanical Garden (Edwards Garden, (777 Lawrence Avenue East, Toronto, ON).
The Seventh Happiness School of Chi Gong First Annual Celebration Open House!
Ribbon Cutting at 3:00 p.m.
Live Entertainment / Performances
Free Chi practice
Free Chi healing
Chinese Massage
Presentations
Special Tables to Explore:
Pet Reading, Clairvoyance with Marnie (bring a photo of your lovely pet and Marnie will surprise you how much she knows a about her)
Life Strategizing with Dave Watson
How to write your First Book with Sherree Felstead
Reiki with Adrian Bhatti and Erin Dixon
How to become a Denominated Minister
How to eat Weeds with Garry Tibbo
Sound Healing with Michael Moon
The Crystal Sun
Chinese Dance
Multi Percussion "Drum" Music with Melody
Traditional Ballroom Dance with danceScape
danceFLOW/lifeFLOW Chi Gong by danceScape
Created by Robert Tang & Beverley Cayton-Tang, former 3-time Canadian and 2-time North American Undefeated Amateur Standard Ballroom Champions as seen on Dragons' Den, ParticipACTION, and Healthy Gourmet, the program will be a fusion breathing, stretching, muscle toning/strengthening, and QiGong energy flow movements to a mix of Ballroom, Latin and World music.
Robert & Beverley initially started learning traditional "Yang-style" Tai Chi & martial arts-based Chi Gong two years ago from a local instructor in Burlington, as part of their "Bucket List" to try something different and new, after Robert's mother passed away from Breast Cancer. They recently discovered and connected with Master/Sifu Teresa Yeung, founder of The Seventh Happiness School of Chi Gong, which set them on an inspiring journey to learn Chi Gong for health, mental wellness, and medicinal healing.
They were thrilled when Teresa invited them to showcase danceFLOW/lifeFLOW Chi Gong as well as an honour "Waltz" dance demonstration, as part of her school's Open House at the Toronto Botanical Garden Open House. Robert & Beverley are excited to be learning from and working with Teresa and her instructor team to introduce and integrate Master Teresa's Medical QiGong program as part of danceScape's "danceFLOW/lifeFLOW Chi Gong" program in the Burlington/Halton, Stoney Creek, Hamilton, and surrounding areas.
November is an excellent time of the year to boost up for a healthy winter:
Practice Kidney Chi Gong form to balance the Kidney/Sexual Organs for Prostate for libido
Practice Kidney Chi Gong form for balancing imbalance hormones of menopause like hot flashes with women
Practice Kidney Chi Gong to balance your mood swing due to imbalance of hormones
Learning how to center and ground your energy reducing stress
Strengthen your core energy energy, tighten up the "Belly" lose muscles
Recharge the Chi energy of the Reproductive System.
When you practice, you will feel a nice warmth all over your body. It's an interesting feeling!
---
ALSO: Mark Your Calendar for the Whole Life Expo, Saturday, November 29th, Booth 83, Metro Convention Centre. Visit Teresa and see demonstrations at Booth 83. Chi Healing at Booth with a lecture by Master/Sifu Teresa at 5.45 p.m. If you are interested in joining danceScape at a Social Outing to this event, please email [email protected] or call 905 633-8808.