Burlington Newcomers Club at danceScape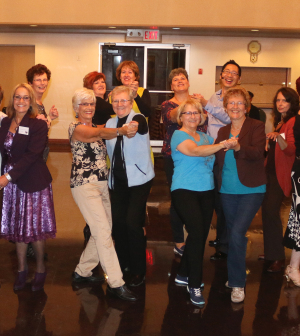 Thanks to the Burlington Newcomers Club who dropped in to danceScape on Wednesday, October 1st for a fun evening of Ballroom & Latin dance lessons and socializing! Click here for photos from the event.
The mission of the Burlington Newcomers Club is to provide a network of social activities which bring together women, of all ages, who have recently moved to the Burlington area or had a life-altering change, such as divorce or bereavement in the past two years. Through volunteer conveners, the Club provides a number of interest groups where members can share in activities they enjoy with like-minded women, form new friendships and get to know their new City of Burlington, its community, amenities and services. The Burlington Club was established in 1967 and is one of the largest in Canada.

(See danceScape @ the Waterfront: Celebrate the Brant Inn featured in this video at 2:09.)