Ben & Laura's Wedding Dance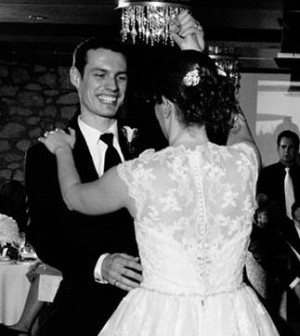 Congratulations to Laura & Ben who were married in December at the Cambridge Mill. Thank you to Garry & Martha MacDonald for forwarding wonderful photosfrom the Wedding. Lauren and Ben danced a Foxtrot to "Then" by Brad Paisley for their First Dance; Gary and Lauren danced the Waltz to "I Loved Her First" by Heartland for their father-daughter dance. We are looking forward to helping all the other newly engaged couples this term who are preparing their Wedding Dances!
Video App – Learn to Dance Online
danceScape Music Playlists
Shall We Dance?
Archives
Copyright © 1997-2014 danceScape[TM] Corporation. All rights reserved. Website developed by ROBERT TANG.