August "4 Week" Dance Bootcamps – Burlington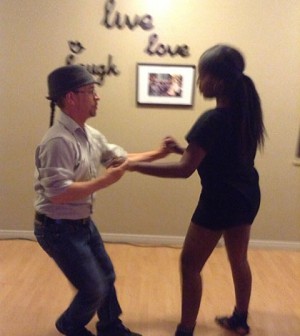 SUMMER BALLROOM & SALSA/LATIN BOOTCAMP 2013
Heat up the summer with danceScape's special 4-week sessions in Burlington and/or Ancaster
Sign up for one or more! (no partner necessary)
Wed., August 7th – 28th
Downtown Burlington (2077 Pine Street)
danceTONE (6-7pm)  Ladies Only fitness sessions
ChaCha (7-8pm)
Salsa Open (Beginners/Lvl 1) (8-9pm)*
Thurs., August 8th – 29th
Downtown Burlington (2077 Pine Street)
danceTONE (6-7pm) Ladies Only fitness sessions
Samba (7-8pm)
Lindy Hop/ Swing (8-9pm)
             (NOTE: *Salsa classes will feature new Associate Instructors, Will & Xenobia Delgado!)
The cost is $67.80 per person, per workshop. Contact danceScape to register! 
fun, fitness, romance … DANCE!
Video App – Learn to Dance Online
danceScape Music Playlists
Shall We Dance?
danceScape Radio Podcasts
Archives
facebookLIVE Mini Tutorial – Waltz
facebookLIVE Mini Tutorial – Cha Cha
facebookLIVE Tutorial – Swing/Jive
Copyright © 1997-2014 danceScape[TM] Corporation. All rights reserved. Website developed by ROBERT TANG.