Project Autism & danceScape present "Dance Socialize"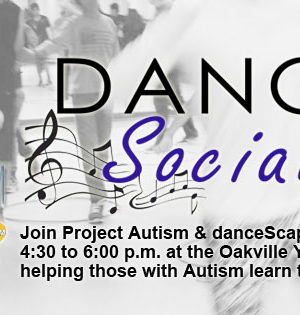 Join Project Autism & danceScape for "Dance Socialize", helping those with Autism learn Ballroom & Latin Dancing!
Social events with loud noises, flashing lights, talking and dancing can be quite stressful. This program is offered to 14+ to adult community members. You are never too old to learn how to dance. Social skills and etiquette is another crucial part of this program as it allows youth and adults the opportunity to address concerns, learn and grow while absorbing new techniques and skills designed to build self esteem and social understanding
At Project Autism, their motto is "Practice – practice -practice – one thousand times is our methodology. 'Only after you have done something one thousand times can you say you give up or that you have done enough'." – Judith Elaine, Community Coordinator
Where: Oakville YMCA, 410 Rebecca St., Oakville, ON
When: Saturdays: 4:30pm – 6:00pm
Contact: [email protected] and/or [email protected]
—
About Project Autism
Project Autism Canada is a grassroots, community-driven organization that is dedicated to increasing public awareness, building positive acceptance and providing vital community support and education programs for those living with, and affected by, the vast Autism Spectrum Disorder (ASD).
About danceScape
danceScape was founded by Robert Tang & Beverley Cayton-Tang, 3-time Canadian and 2-time North American Ballroom Champions, as seen on Dragons' Den (CBC), Healthy Gourmet (Oprah Winfrey Network), ParticipACTION's "Get Inspired. Get Moving" fitness campaign, Canada in a Day (CTV), and the Marilyn Denis Show (CTV).
danceScape's mission is to inspire people to laugh, be fit, make fun friends, and experience romance through Dance. We teach people to gain confidence in themselves, not only on the dance floor but also in their personal and work life. We connect couples and singles from cross generations to live fun, fearless, and magical lives. #shallwedance?