OPEN HOUSE(S) – Join us for FREE Ballroom & Salsa Lessons!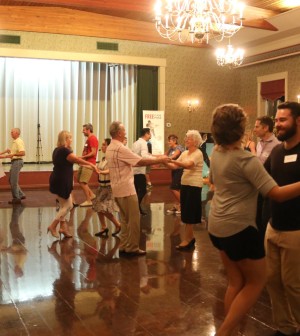 Each January, May, September & December, danceScape hosts formal OPEN HOUSES where you can try out FREE Dance lessons in Ballroom, Salsa/Latin, West Coast Swing, danceTONE Fitness (incorporating rumba, cha cha, salsa, tango, jive/swing & more) and danceFLOW qiGong (fun fusion of Mindful Meditation and Movement to Ballroom, Latin & World Music" with traditional qiGong exercises and dancing for Stress, Healing and Energy Management) and Wedding Dance Crash Course. Partner not necessary. Enjoy complimentary refreshments, experience learning in a 3,500 s.f. Ballroom, and meet the Instructor team. Spaces are limited so register today!
If you are unable to attend or missed our Open House(s), you can still arrange a FREE "NEWCOMERS DROP-IN" information session on Monday Evenings from 8:00 to 9:00 p.m. Partner not necessary. RSVP today so a danceScape Ambassador can prepare your information package and FREE Class Pass! Register below, call 905 633-808 or Email events@dancescape.com today.
RSVP to attend our next Open Houses on Monday, May 8th and/or Thursday, May 11th, 7 to 9 p.m. Spaces are limited, register below, call 905 633-8808 or Email events@dancescape.com today! Register below, call (905) 633-8808, or E-mail events@dancescape.com. Check off your "Bucket List" and learn to dance for fun, fitness, friendship, or romance! Waltz, Cha Cha, Salsa, Tango, or Swing/Jive your way to a weekly dance escape. Shall we dance?
Give the Gift of Dance! Imagine the surprise when they receive your gift of joy, inspiration, and transformation, just like on Dancing with the Stars! Call danceScape today so that we can start preparing your Gift Cards and Certificates for group classes or private lessons in any denomination. We'll even provide complimentary Gift Bags for easy gift-giving without the stress of wrapping!
Video App – Learn to Dance Online
Shall We Dance?
danceScape Music Playlists
danceScape Google Hangout
Archives