Dancing at Sea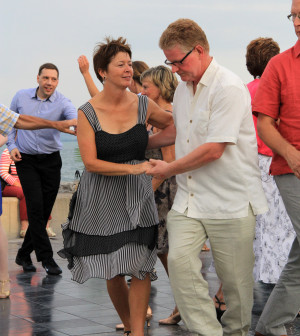 How Learning to Ballroom Dance Can Make Your Next Cruise Even More Fun!
More and more Cruise Ships are offering opportunities to dance at sea. Whether your idea of dancing is to trip the foxtrot fantastic, cut a rug with a tango, or swing out to a live band, you`ll find many onboard nightclubs and ballrooms that cater to your love of musical and dance styles.
For those who don`t know how to dance properly, you may be at a particular disadvantage.
After all, women love men who know how to lead without worrying about his stepping on her toes. And men love women who know how to follow without feeling as if they are dragging a bag of potatoes.
Most people make the mistake of waiting until the cruise to learn how to dance. While it`s true that some cruise lines now offer onboard dance lessons, the dance floors are often small and packed with people. And forget about trying to maintain your balance each time the ship rocks. It just makes learning to dance on a ship much more challenging.
The "must learn" holy trinity of the social dances include Social Foxtrot, Swing /Jive and Waltz. The holy trinity of the Latin dances include Rumba, Cha Cha, and Club Salsa. Learning the basics for these dances will ensure that you can dance to almost 90% of any music that will be played by the DJs or Live Bands at the Night Clubs or Ballrooms.
The ideal time to learn to dance is at least three to six months before you leave for your next Cruise. Group lessons are the most cost effective and learning the basic steps of a few core dances is the fastest way to gain confidence. Private lessons with a personal instructor help accelerate the learning process even faster.
For men, this may also be your quick start to train as a "Dance Host" on Cruise Ships. For women, this almost always ensures you quickly become the favourite partner for more experienced dancers as well as Dance Hosts.
Shall we dance ?
This article will appear in Spring issue of Silver & Gold Magazine.