Wedding Dance Lessons @danceScape – Jesse & Jessica Waltz/Rumba to "Perfect/Can't Help Falling in Love" Mashup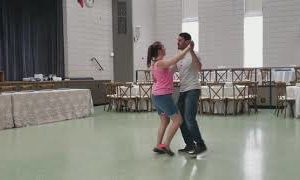 Congratulations to Jessica and Jesse on their Wedding, and proud parents Adam and Heidi. Jessica and Jessie danced a Waltz/Rumba #FirstDance Mashup to #Perfect by #EdSheeran and "Can't Help Falling in Love" by #JoeyStamper. Dad Adam danced the #Waltz Jessica to "I Loved Her First" by #Heartland for their Father-Daughter #Dance. Thanks so much for the delicious Breakfast Peaches, Strawberries and Tangerines after final practice! Contact danceScape at 905 633-8808 or Email events@dancescape.com for Wedding Dance Lessons. #shallwedance?
Video App – Learn to Dance Online
danceScape Music Playlists
Shall We Dance?
Archives
Copyright © 1997-2014 danceScape[TM] Corporation. All rights reserved. Website developed by ROBERT TANG.