Omni Television Interview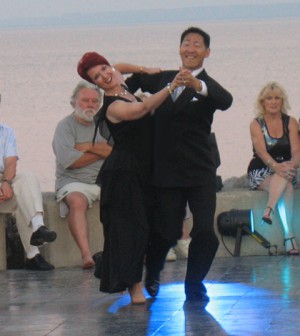 Shawn Wang
Mandarin News on Omni 2 Television
Reporter Shawn Wang from Omni Television interviewed Robert Lit-Meng Tang for the Mandarin Weekend Show which aired on May 1st from 6 p.m. to 7 p.m. on OMNI 2 (Channel 14 in Toronto, Channel 29 Burlington/Oakville, and Channel 18 in Hamilton/Cogeco). It also aired on the HD Channel 530.
Anchor:
There are many international Ballroom lovers in Canada, including Chinese-Canadians. In Burlington, a small town in Ontario, there is a couple from two different racial backgrounds and they have made great achievements in North American Ballroom competitions. Let us watch the story of Malaysian-Chinese, Robert Lit-Meng Tang, who came to Canada at 8, and his wife Beverley.
Shawn:
Lit-Meng Tang did not yet have a series of Ballroom competition titles in dancing world, prior to meeting his wife, also his dancing partner, Beverley. His wife, Beverley, said that she was already the provincial champion when Robert started to dance.
Lit-Meng Tang decided to open their class to teach dancing when he was at his peak of dancing career.
Shawn dancing:
Lit-Meng Tang mentioned that international Ballroom Dancing consists of two categories. One includes Waltz which I am dancing, Tango and Quick Step, etc. Another contains exotic Latin dances, such as rumba, samba, cha cha, etc.
Shawn:
They recalled the time when investors provided them with the opportunity to give up their corporate jobs to teach dance; they said frankly that it was not an easy decision to make at that time.
They have about four hundred students to learn dancing in their classes every year. Yang & Fan is one of them.
Fan:
We do not only study dancing techniques, but learn passion and confidence. We understand more about music and dance as well as a kind of latitude to our lives.
Shawn:
Beverley said that it is far more difficult to find a dancing partner than to look for a spouse because dancing needs good mental and physical coordination.
Lit-Meng Tang and Beverley also impart their students with their own experiences and understanding of dancing.
Fan:
We found it also helps us to improve our communication and relationship with others by learning dancing.
Shawn:
While they enjoy their teaching and dancing, they are also keen on participating social and community activities, such as the Sound of Music Festival & the Celebrate the Brant Inn at the Waterfront, and hope that all old and new friends could join them to dance under clear night sky.
Anchor:
Ha Ha, I am very impressed with the pictures in which Shawn danced. Hopefully, he can learn more and show us in our next get-together.