danceScape at "Medical Cannabis" Chronic Pain Public Forum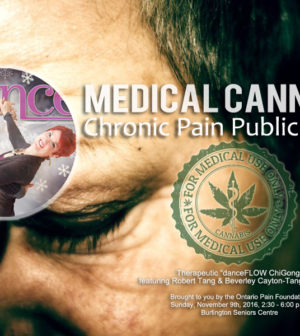 Do you or someone you know suffer from Chronic Pain? Register to attend this Chronic Pain Public Forum about "Medical Cannabis", sponsored by the Ontario Pain Foundation.  danceScape's Beverley Cayton-Tang & Robert Tang have been invited to present a session on "Therapeutic danceFLOW ChiGong" at 3:45 p.m.
Location: Burlington Seniors' Centre
2285 New Street (in Central Park), Burlington
Date: Sunday, November 6th, 2016, 2:30 – 6:00 p.m.
2:30 p.m. – Exhibits (throughout the session)
3:00 p.m. – Introduction and overview of the Chronic Pain Support Group, James L. Henry, Ph.D.
3:15 p.m. – "Medical Cannabis: Health, Safety and the Legal Landscape, What You NEED to Know!", Mohammad Rahim, M.D. & Jillian Henderson, B.A., B.Ed.
3:45 p.m – Therapeutic "danceFLOW ChiGong", Beverley Cayton-Tang & Robert Tang from danceScape
4:00 p.m. – Refreshment break and Exhibits
4:30 p.m. – "Grassroots use of medical marijuana: users perspectives", Terry Bremner, President of the Chronic Pain Association of Canada
4:50 p.m. – "A Guide to Accessing Medical Cannabis", Shega A'Mula Community Engagement, Tweed
5:10 p.m. – Closing remarks – Kiran Yashpal, Ph.D.
Brought to you by The Ontario Pain Foundation
Tel: 905-592-1516, Email: [email protected]