Former Ballroom Champion Takes a "Quick Step" From Dance Floor to Kitchen on TV Show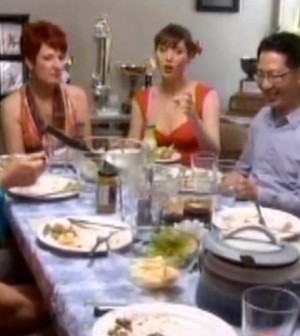 danceScape's Beverley Cayton-Tang follows the lead of "Healthy Gourmet" experts, as they give her a crash course in nutritional and culinary arts.
Julie Daniluk, co-host / nutritionist, and Ezra Title, co-host / Chef, recently visited Beverley Cayton-Tang at danceScape's studio in downtown Burlington. The pair came to film an episode of their new television series "Healthy Gourmet" for VIVA, (a sister-station to the W-Network).
In celebration of danceScape's 10-year anniversary, Beverley wanted to create a meal for a group of staff and students, including her husband and co-founder of danceScape Robert Tang, instructors Trevor Copp and Jessica Smyth, Marketing-Communications Coordinator Jessica Pym, and students Don and Esther MacKay.
"The biggest challenge in cooking for this eclectic group," remarked Beverley, "is the number of different backgrounds and preferences I have to keep in mind. Coming from Manchester, I have a traditionally bland British palate; Robert, however, with Chinese and Malaysian heritage, prefers spicier food, as does Don, who grew up in India. To further complicate things, Trevor is diabetic, one Jessica is carb-conscious, and the other is a vegetarian. I knew that for this meal, I needed help."
Help came in the form of Julie and Ezra, who, in "Healthy Gourmet", combine their backgrounds in nutrition and fine cuisine to help people create meals that are both tasty and healthy. When the pair arrived at danceScape, they found the group enjoying a meal which included a very Northern English dish: "tater 'ash". The two had much to say about the meal, both from a nutritional point of view, and in terms of taste.
"The words 'bland' and 'boring' were used a lot, and there were many comments about chemical ingredients and fat content," remembers Beverley. "I'm not sure I'll ever look at a bottle of salad cream the same way."
Robert wasn't devastated at the criticism the meal received. "When Beverley and I were first dating, I was served tater 'ash at her parents' house. I admit that I was nervous about making a good first impression, but that dish made me feel even sicker. I'm always happy when Beverley cooks, but I won't be upset if I never eat tater 'ash again!"
Julie and Ezra, armed with feedback from the diners and their own assessment of the meal's merits and downfalls, offered Beverley assistance in creating a new menu that would take into account everyone's individual dietary restrictions and preferences. They also promised to share some tricks for adding cultural flavour, to ensure that the meal would be pleasing to extremely different palates.
In return for being taught about cooking and nutrition, Beverley decided to teach a thing or two about dance. "It didn't seem fair that I was the only person learning something new, so I asked Trevor to show Julie a little salsa – and not the kind you dip nachos into! Between the cooking and the dancing, we all had a lot of fun."
Will Beverley's new menu rise from the 'ash, and win her a perfect score? Can Julie and Ezra heat it up on the dance floor as well as they can in the kitchen? Watch "Healthy Gourmet" on VIVA (Cogeco channels 69, 79 and 91 in Hamilton, Burlington, Oakville) at 7:30 p.m. on Saturday, August 8th to find out.