Every Dance Tells a Story – Tony & Adrienne Viennese Waltz at the Zucker Bäcker Ball in Austria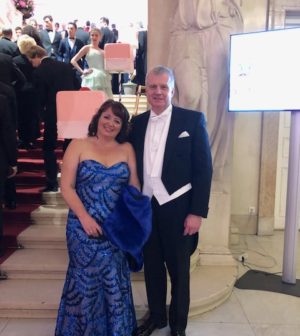 At danceScape, every Dance tells a Story – Congratulations to Tony & Adrienne who wanted to learn the Viennese Waltz for a dance adventure in Vienna, Austria.
Last year, on a Skiing trip with his daughter, he happened to see people dressed in Ballgowns and Tailsuits. He discovered that they were going to the Zucker Bäcker ("Sugar Baker" Confectionery) Ball to dance.
When he returned home, Tony spoke to his wife, Adrienne, and they thought it would be such a fun and magical experience to be able to attend – and Waltz – at a "real" Viennese Ball.
But they had only learned to Salsa/Merengue at danceScape. They wanted to know how difficult it would be to learn the "Viennese Waltz"… in less than 8 weeks!!!!
With determination, practice and danceScape's "Dance Crash Course" system developed by 3-time Canadian and 2-time North American Ballroom Champions, Robert Tang & Beverley Cayton-Tang, they soared to new heights!
At the Zucker Bäcker Ball this week, Tony & Adrienne looked like Movie Stars – dressed in a Blue "Mermaid-y" Ballgown and elegant Tailsuit.
AND they Viennese Waltzed in a magical breathtaking Ballroom at the Vienna Hofburg – in Vienna, the birthplace of the Viennese Waltz!
Congratulations, so happy and proud of you both! #shallwedance? – #shine with #RobertBeverley @dancescape
P.S. Tony is General Manager and Partner of Sterling Honda in Upper Hamilton Mountain (Upper James Street). Drop in to day hello, check out the latest models and ask him about their Viennese Waltz adventure. He and his team are awesome! https://www.sterlinghonda.com/