Dipti & Marty`s Wedding Dance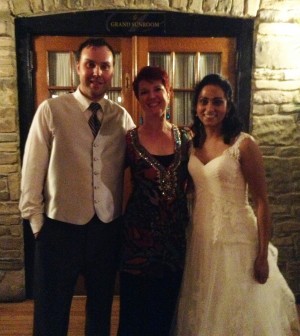 Thanks so much for letting us share your special day and helping to prepare for your Wedding Dance at Glen Erin Inn. What a wonderful event. You both did awesome! Brought tears to everyone' eyes! So much fun on the table with Larry & Helen, Adam & Krista, Carrie & Dorothy.
PLUS, talk about Synchronicity … the first song that the DJ played after that was "My Heart Will Go On" as sung by Celine Dion, which was the song at Mom & Dad's 50th Wedding Anniversary danceScape Party, the final year before Mom passed away from Breast Cancer. August 8, 2012 (08-08 2012) was the day of her funeral. www.08-08-08.org is inspired by the 8 flowers that blossomed this year from the plant that mom left in our custodianship. This year, this has even more meaning for Selina & I. Our hearts will go on …
Beverley & Robert
www.dancescape.com
Video App – Learn to Dance Online
danceScape Music Playlists
Shall We Dance?
danceScape Radio Podcasts
Archives
facebookLIVE Mini Tutorial – Waltz
facebookLIVE Mini Tutorial – Cha Cha
facebookLIVE Tutorial – Swing/Jive
Copyright © 1997-2014 danceScape[TM] Corporation. All rights reserved. Website developed by ROBERT TANG.