danceFLOW QiGong/Taichi at #sunrise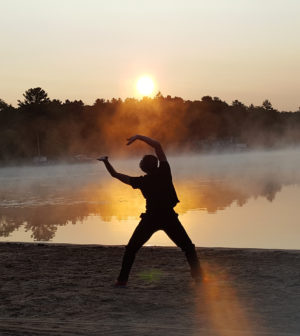 There is nothing more relaxing than danceFLOW QiGong/Taichi at #sunrise. #shallwedanceFLOW @danceScape?
danceFLOW is led by Robert Tang, former 3-time Canadian and 2-time North American Ballroom Champion, as seen on Dragons' Den, ParticipACTION's "Get Inspired, Get Moving" fitness campaign, Healthy Gourmet, and CTV's "Canada in a Day". For more information about danceFLOW QiGong/Taichi, visit www.dancescape.com/danceFLOW
danceFLOW QiGong/TaiChi is a fusion of QiGong/Taichi with gentle breathing, stretching, toning and guided meditation exercises to inspirational #dance music (e.g., Indigenous/Ethnic, Middle Eastern, Argentine Tango, Cuban Rumba, English Waltz, Classical Ballet). The goal is to tap into the principles of "Ying-Yang", "Taiji" & "Wuji" to breathe correctly and manage internal/external energy flows in order to achieve stress relief, relaxation, flexibility, fitness, energy balance, and healing. These same principles will then be applied through other martial arts and dance-based movements for gentle cardio and muscle toning.
This program is particularly suited to those who want to experience a gentler but empowering form of fitness and exercise, as well as anyone living with Pain, Chronic Pain or other Accessibility challenges (e.g., Parkinson's, Arthritis, Paraplegia). Some portions of the class may involve seated breathing and meditation exercises.