danceScape's Robert & Beverley Story on CBC Canada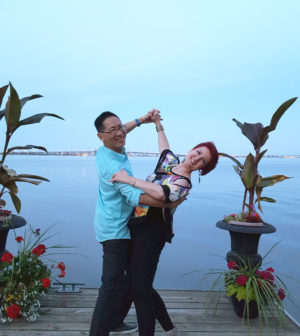 We are so honoured that CBC Canada has included a Story about danceScape's Robert Tang & Beverley Cayton-Tang:
"Only in Canada can two children of immigrant families — mine from Kuala Lumpur, Malaysia, and my wife Beverley's from Manchester, England — meet through ballroom dancing in Waterdown, Ontario.
My family immigrated to Canada in the 1970s to escape political unrest in Malaysia. My wife's father retired as a police "Bobby" and started a new life as a correctional officer in Canada. Both our parents loved to dance, especially ballroom dancing. It was at [my parents'] first beginner competition that they introduced me to Beverley, who was the provincial champion at the time.
When I saw her in her beautiful gown, I developed an instant crush. But it was a few years later that we ended up being first dance partners and then partners in life. We have since retired from competitive dancing, but being known in our time as one of the few "mixed raced" competitive dancers was something that was fully embraced in the ballroom dance community, especially in Canada."
Video App – Learn to Dance Online
danceScape Music Playlists
Shall We Dance?
danceScape Radio Podcasts
Archives
facebookLIVE Mini Tutorial – Waltz
facebookLIVE Mini Tutorial – Cha Cha
facebookLIVE Tutorial – Swing/Jive
Copyright © 1997-2014 danceScape[TM] Corporation. All rights reserved. Website developed by ROBERT TANG.