Ballroom Dance Champions Make Guest Appearance in W Network's Makeover Show "GROOMED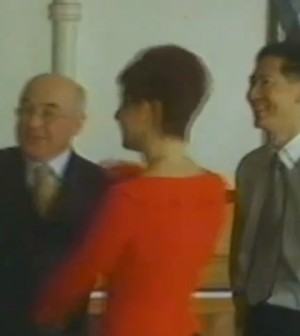 3-time Canadian and 2-time North American Amateur Ballroom Champions, Beverley Cayton-Tang and Robert Tang, make a guest appearance as Dance instructors on W Network's makeover show, "Groomed".
Hosted by butler Paul Hogan, best known for his show-stealing performance in the hit reality series "Joe Millionaire", "Groomed" puts unpolished, ungainly men through "gentlemen's boot camp" in preparation for a big event.  The pilot episode, airing Saturday, June 11 at 8 p.m. ET/PT and Sunday, June 12 at 6 p.m. ET/PT, transforms an awkward husband-to-be into a dashing "dancing" Prince Charming for his wedding.
With only one week to go before the big day, Paul and the groom, John Stievenart, tackle each challenge – table etiquette, formal dressing, social manners, vow writing, public speaking, romance and ballroom dancing.   Beverley and Robert were invited as guest Dance instructors to help surprise John's bride-to-be with his dancing skills.
Remarked Beverley, "John confided that he had always wanted to learn the Waltz.  His bride-to-be loved to dance, but he felt that he had two left feet and didn't know if he could pull this off.  Needless to say, it was quite a challenge not only for him but also for us, with only a few days before the wedding!"
"In the end, we had to bring in the 'Dance Frame'," added Robert.  "This steel frame for the upper body looks like a medieval instrument of torture but is used by competitive Ballroom Dancers to help mould their distinctive elegant posture and hold."
Ballroom dancing is enjoying a strong resurgence, especially with such recent Hollywood hits as "Shall We Dance?", the recently released documentary, "Mad Hot Ballroom" and the new reality dance contest on ABC Television, "Dancing with the Stars."  The Tang's own "For Absolute Beginners Only" Social Dance workshops continue to sell out, and their websites, www.dancescape.com  andwww.dancescape.TV, have grown to become the largest Dance communities on the Internet.
Stated Robert, "We were inspired by John's determination to transform himself, and by the passion of Paul Hogan and the entire Groomed team to help achieve that transformation."
To see if Paul Hogan, the Tangs, and the entire Groomed team can transform a frog into the dashing "dancing" prince, tune in Saturday, June 11 at 8 p.m. ET/PT or Sunday, June 12 at 6 p.m. ET/PT on W Network.