Ballroom Dance Lessons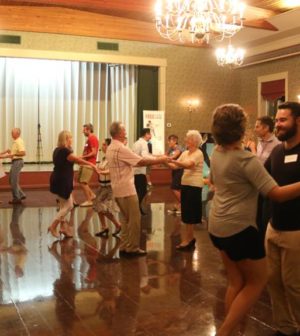 For couples (or singles) who want to:
Gain Confidence at Social Events (e.g., Wedding, Gala Fundraiser, Corporate Party).
Be Inspired by Big Band, Jazz, Swing, Latin or Top 40 Popular Music, especially artists like Michael Bublé, Frank Sinatra, Ella Fitzgerald, Nat King Cole, Meghan Trainor, Ed Sheeran, etc.
Prepare a Special "First Dance" at a Wedding and have time to learn proper Basic Steps and Leading/Following comfortably to Music.
Have Fun Dancing on a Cruise or Destination Vacation/Resort with a Live Band or DJ.
Make Time for "Date/Friendship Night" with your Special Someone or with Family and Friends.
International Ballroom typically consists of both "Standard" (
Foxtrot, Waltz, Tango, Quickstep, Viennese Waltz
) and "Latin" (
Cha Cha, Rumba, Jive/Swing, Samba, Paso Doble
) Dance Styles. Specialty styles include
Argentine Tango
,
West Coast Swing
and
American Style Smooth & Rhythm
.
danceScape Foundation Dance Styles:
Social Foxtrot
Waltz
ChaCha
Rumba
Jive/Swing (or Tango)
"10 Week" Group Class Packages:
Absolute Beginners (5 Basic Dance Styles)
Open Variations – New Step Combinations (2 Dance Styles per Term)
Ballroom Technique – Styling/Technique (1 Dance Style per Term). Open to students who have been in Level 1 program for minimum of 1 year and/or supplementing with Private Lessons.
Private Lesson Packages: "Couple" or "Single" student with 1 Instructor (1 hr)
1 to 3 Lessons
4-9 Lessons
10+ Lessons
Call 905 633-8808 or Email [email protected]. Or Click here for Full Calendar.