Visit danceScape at the Good Living Show, Paletta Mansion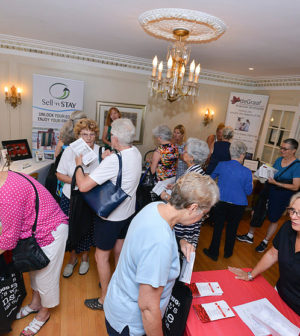 Join danceScape at the "Good Living Show", hosted by Silver & Gold Magazine. A FREE full day to celebrate with Boomer Plus friends!
Join us for a day of exhibits and demonstrations, scheduled hourly events, music, food, laughter and friendship. Visit danceScape at Table 5 on the Main Floor Room at Paletta Mansion.
Silver and Gold is turning 10! Join us for the BEST trade-show fun affair you've seen yet! Light refreshments will be provided. Special USEFUL gift bag to the first 50 guests! Fully accessible and plenty of parking.
danceScape at the Good Living Show
Presented by Silver & Gold Magazine
Thursday, August 18th, 10 a.m. to 8 p.m.
Paletta Mansion
4250 Lakeshore blvd, Burlington, Ontario
RSVP: 905 633-8808, events@dancescape.com or register with danceScape online!
Video App – Learn to Dance Online
Shall We Dance?
danceScape Music Playlists
danceScape Radio Podcasts
Archives