Wedding Dance Lessons @danceScape – Adrienne & Peter Waltz to "Come Away with Me"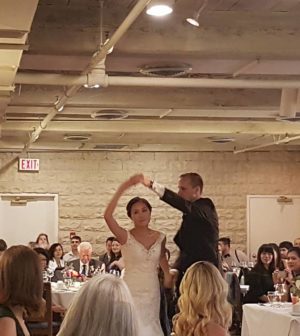 At dancescape, every Dance tells a Story – Finally had a chance to see and catch up with Dr. Adrienne Tong @adrienne.a.gram for an Eye exam at her office at Abbey Eye Care in Oakville (right across the street from the Oakville Trafalgar Memorial Hospital)!
Adrienne and Peter learned to do the Waltz to "Come Away with Me" by Nora Jones for their Wedding in October 2016! Such a talented young couple, not only in dance but also in their respective fields of Optometry and Systems Engineering. We remember at the time that Peter was defending and successfully achieved his Ph.D. while getting ready for their Wedding Dance. PLUS that he had the opportunity to visit a client – SpaceX (yes, founded by THE Elon Musk) during that same time period.
So wonderful was their dancing that their Wedding photographer said it was the best Wedding Dance that he had ever seen!
Thanks so.much, Adrienne, for the thorough Eye exam. Now, to pick a funky frame(s) for the new decade!
Click here for more information about danceScape's Wedding Dance Crash Course Program.