Get It While It's Hot, by David Norman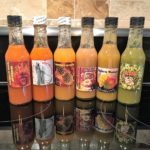 Get It While It's Hot, by David Norman
Hand Crafted Homemade Hot Sauce. Gluten Free!
danceScape Class Alumni:
Absolute Beginners Ballroom
Send Message to listing owner
Get It While It's Hot, by David Norman
Video App – Learn to Dance Online
danceScape Music Playlists
Shall We Dance?
danceScape Radio Podcasts
Archives
facebookLIVE Mini Tutorial – Waltz
facebookLIVE Mini Tutorial – Cha Cha
facebookLIVE Tutorial – Swing/Jive
Copyright © 1997-2014 danceScape[TM] Corporation. All rights reserved. Website developed by ROBERT TANG.