Queen of Hearts & Mad Hatter Ball – Hamilton Hunt & Equestrian Club Fundraiser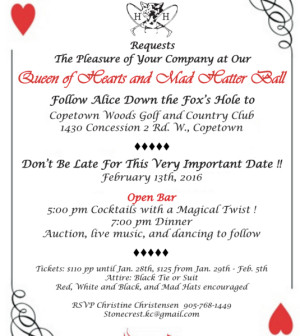 The Hamilton Hunt & Equestrian Club is organizing a "Queen of Hearts & Mad Hatter Ball" at Copetown Woods Golf & Country Club (1430 Concession 2 Rd. W., Copetown) on Saturday, February 13th with Cocktails at 5:00 p.m, Dinner at 7:00 p.m. followed by Silent Auction, Live Music by "Uncorked", and Dancing. Tickets are $110 pp until January 28th, $125 from Jan. 29th – Feb. 5th. Attire is Black Tie or Suit. Red, White and Black, and Mad Hats encouraged. RSVP Christine Christensen at 905 768-1449, Email stonecrest.kc@gmail.com
danceScape will be donating two 10-week group lessons for their Silent Auction fundraiser. Thanks to student, Andrea Dreger, for reaching out to us about this fundraiser!
PLEASE NOTE:
"Field hunting is a friendly and noncompetitive sport in which the main objective is to enjoy the thrill of chase and to observe a well-trained pack of hounds in full cry and at work. It is NOT as many believe to catch and kill their quarry but to watch as the hounds unravel the mystery as to where the coyote has taken flight and try to piece together the route it may have taken, whether that be across field, though creeks or into the forests and bush." – Hamilton Hunt
Video App – Learn to Dance Online
Shall We Dance?
danceScape Music Playlists
danceScape Radio Podcasts
Archives