FREE Outdoor danceTONE Fitness with danceFLOW QiGong Class at "Fit in the Core"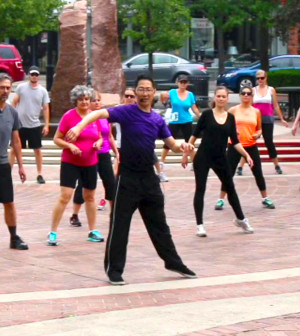 Join danceScape at Burlington Downtown's "FIT IN THE CORE" FREE fitness classes at CIVIC Square, 426 Brant Street, beside City Hall in downtown Burlington, Ontario.

danceScape will present danceTONE Fitness (incorporating lifeFLOW ChiGong warm-up with FUN Latin/Ballroom dance-based exercises) on Sunday, July 9th, 10:00 to 11:00 a.m. Add some "Sparks" and "Sparkles" to your Life Energy ("Chi/Qi") and join Robert Tang & Beverley Cayton-Tang for a FUN morning of Mindful Meditation and Movement to Ballroom, Latin, and World music!

danceTONE Fitness Session Highlights

For more information about danceScape's danceTONE Fitness and lifeFLOW Chi Gong/Guided Meditation programs, please visit www.dancescape.com/lessons.


Video App – Learn to Dance Online
Shall We Dance?
danceScape Music Playlists
danceScape Radio Podcasts
Archives