danceScape Receives Burlington Accessibility Award in Education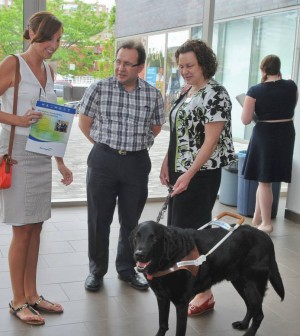 Changemakers honoured at 3rd annual Burlington Accessiblity Awards
Tina Depko-Denver, Burlington Post
There was a strong sense of community spirit and solidarity towards making the city a better place for those living with disabilities at today's 3rd annual Burlington Accessibility Awards.
This afternoon's ceremony at the Burlington Performing Arts Centre saw 14 awards presented to businesses, churches, non-profit organizations and residents of various ages.
The event is hosted by the Burlington Accessibility Advisory Committee as part of National Access Awareness Week.
"A community that is truly livable includes community partners that contribute to the city," said Marilyn Turner, vice chair of the Burlington Accessibility Advisory Committee.
Keynote speaker Diane Dupuy, president and founder of the Famous People Players, stressed the importance of celebrating each other's differences.
"Embracing people is the most beautiful thing we can do for each other," she said during her inspirational address.
Dupuy knows first-hand what it's like to be ostracized for being different.
She was diagnosed with attention deficit hyperactivity disorder (ADHD) at a young age and struggled through school, failing several grades.
She was bullied and called a 'retard' by other students.
"I now know ADHD actually stands for 'awesome dreams with high drama'," she said with a laugh.
Famous People Players is a professional black-light theatre troupe predominantly consisting of people who are developmentally challenged.
Dupuy founded the company in 1974, with a mission to give people with disabilities an opportunity to integrate into society.
She said the company has not only dramatically impacted people living with disabilities, but also society's acceptance of people facing such challenges.
"People didn't like the idea I was going to start FPP – they thought it was going to be a freak show, but we persevered," she said.
Famous People Players is currently celebrating its 40th year.
Dupuy said she has seen the incredible, inspirational metamorphoses among members who have often been brushed aside by society.
She continues to be a vocal advocate for the inclusion of those with disabilities.
"That's what happens when we all get together and everybody is included," said Dupuy. "Something really wonderful happens – a magic."
Dupuy said she was inspired by the stories of today's recipients. She said they demonstrated the best things can happen when people work together.
"One person can make a difference, but it's a team that makes a miracle," she said.
Education: danceScape
danceScape's founders Robert Tang and Beverley Cayton-Tang are well-known champions of ballroom dance.
They, along with Kristin Dufour and their fellow instructors, share their love of dance at their downtown Burlington studio through group and individual lessons.
With enthusiasm and respect, they created an accessible learning environment that welcomed a dance pair that included a partner who is blind.
Course instructors took the time to learn how the pair would best learn dance steps and developed unique signals that replaced visual cues a dancer would use if they were sighted.
These innovative teaching methods allowed the couple to share the pure joy of creative movement.
The pair is enjoying their lessons so much they have signed up for their third session, where they will learn the advanced steps for the foxtrot, waltz, rumba, cha-cha and the tango.
Upcoming Events
May
25
Fri
Start of Milton Spring Group Classes
May 25 @ 7:30 pm – 9:00 pm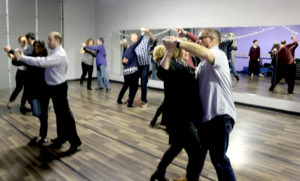 danceScape SPRING 2018 Group Classes in Ballroom & Salsa/Latin start the week of May 25th in Milton. Supervised Practices available Mondays at 8:00 p.m. in downtown Burlington (Package of 10 practices works out to $5.00 pp). Flexible monthly flexplan payment plans available, join today!
Jun
23
Sat
Summer Solstice by the Lake
Jun 23 @ 3:00 pm – 9:00 pm
SUMMER SOLSTICE BY THE LAKE
Saturday, June 23rd, 2018 at 3 p.m.
Venue: 132 North Shore Blvd. East, Burlington
In Support of the Ontario Pain Foundation
Romantic Soirée Donation
RSVP: 905-592-1516, Email: yashpal@mcmaster.ca
$45 cash or cheque to The Ontario Pain Foundation
Multicultural Entertainment, Dancing, Music, Fun, Food, Frivolity, Frolicking
Come to this exciting evening to celebrate the summer solstice – enter a magical world by the lake, where anything can happen, from enchanting undulating music, to mesmerizing dancing, to awesome appetizers, to delectable dinner, to decadent dessert, with soft drinks, beer, white wine & red wine. Bring your family (free for children), friends and celebrate with us this beautiful day. This is a fundraiser for the Ontario Pain Foundation, supporting the people with chronic pain with many educational projects, pain management and knowledge.
PROGRAMME
3:00 p.m. arrival to Scottish piper, followed by 
Salute to the Sun – Surya Namaskar
Ukrainian Fold Dancing – Tyrsa Ukrainian Dance School
Highland Dancing
Indian Classical Dance
Serbian Folk Dancing
danceFLOW qigong/taichi – Robert Tang & Beverley Cayton-Tang, Award-winning dancers from danceScape: Adding FUN "Sparks & Sparkles" to everyone's "Life Energy" or "Chi/Qi" – Mindful Meditation and Movement to Ballroom, Latin & World Music.
Delectable dinner
Supporting the Ontario Pain Foundation
The Ontario Pain Foundation is an independent not-for-profit organization incorporated in the Province of Ontario, with the purpose to advance education and awareness for the benefit of people who live with debilitating pain. The Foundation supports the local Halton/Hamilton Chronic Pain Support Group, provides support for similar groups in Guelph and St. Catharines, and holds training courses in pain management for local healthcare professionals. These activities are carried out as a community service to the 20% of our population that lives with chronic debilitating pain.
Promoting programs & services targeted at introducing, promoting & preserving the cultural & artistic expressions, experiences & abilities of immigrants to enrich Canadian society.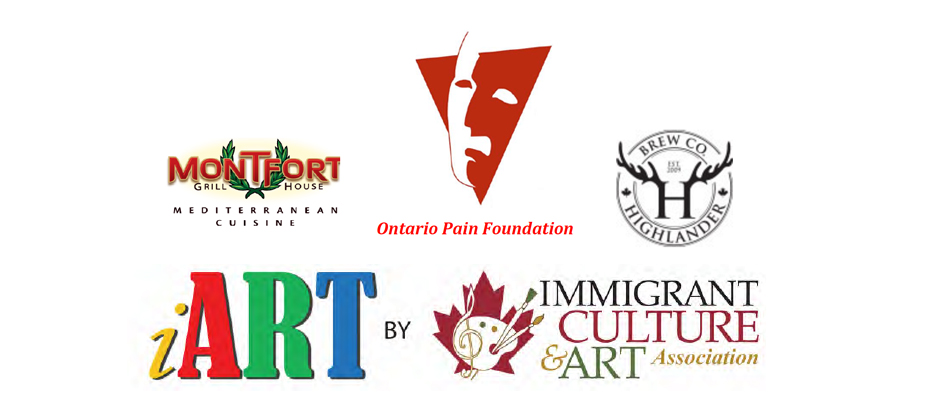 A Fundraiser for the Ontario Pain Foundation
RESERVATIONS
Cost: $45.00 per person
Contact Kiran @ 905 592-1516 or yashpal@mcmaster.ca
Video App – Learn to Dance Online
Shall We Dance?
danceScape Music Playlists
danceScape Radio Podcasts
Archives