Ballroom Dance Champions & Entrepreneurs Selected for New CBC Television Show, "FORTUNE HUNTERS"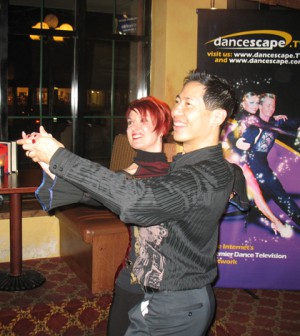 Ballroom is back, big-time. Fueled by hit shows like "Dancing with the Stars" and "So You Think You Can Dance", everyone is discovering what Ballroom Dance Champions Robert Tang and Beverley Cayton-Tang have known all along … that Ballroom Dancing is not only fun and inspiring, but can also be life-changing.
Ballroom is back, big-time.  Fueled by hit shows like "Dancing with the Stars" and "So You Think You Can Dance", everyone is discovering what Ballroom Dance Champions Robert Tang and Beverley Cayton-Tang have known all along … that Ballroom Dancing is not only fun and inspiring, but can also be life-changing.
The former 3-time Canadian and 2-time North American Undefeated Amateur Standard Ballroom Champions from Burlington, Ontario both gave up successful "Corporate" careers to start their own business in 2001.  States Robert, "In hindsight, we did give up a lot in terms of financial security, and as any new business owner can attest, the first number of years were challenging, to say the least!  But the freedom to pursue our passion and to inspire others to experience the challenge and joy of learning a confidence-building skill like dancing – that gave us a new sense of purpose in life."
It is this "leap of faith" from the security of established careers to the risk of becoming entrepreneurs that attracted the interest of CBC Newsworld's new show "Fortune Hunters".  The show will be hosted by Dianne Buckner, currently the host of the popular business venture capitalist program, "Dragons' Den" and who previously hosted "Venture" on CBC Television.  "Fortune Hunters" will focus on emerging trends in business, along with advice and tips from entrepreneurs such as the Tangs on how to overcome challenges along the way.
What intrigued the producers of the show is that over 80% of DanceScape's students are "Baby Boomers" who are not only finding renewed inspiration through dancing, but are also discovering a fun, social way to build confidence and keep fit.  The Tangs were the first in Canada to introduce their "DanceScape For Absolute Beginners Only Workshop Programs" in Ballroom Dancing, Salsa, and Swing, and their workshops continue to sell out.
The success of their local Ballroom Dance studio wasn't the only thing that interested the CBC.  "The producers also want to focus on our attempts to obtain national retail distribution of our DVD, which continues to be a challenge," adds Beverley. The 2-DVD set is entitled "DanceScape For Absolute Beginners Ballroom Dancing" and covers the basics of the Foxtrot, Waltz, Tango, Cha Cha, Rumba, Salsa, and Jive/Swing.  The irony is that the Tangs secured a US distributor this spring, and their DVDs are now available through Amazon, Best Buy USA, Barnes & Noble USA, and other fine American retailers.  But in Canada, the DVDs are not yet carried by any national Canadian retailer.  The good news is that local retailers such as "Promises & Lace" and "Brant Florist" have stepped up to start carrying the DVDs in downtown Burlington.
Although the Tangs have made frequent guest appearances on many television shows, this program is a first for them, as it will focus entirely on their experiences and their company, DanceScape.  "We are usually called in as the Dance Etiquette experts, teaching couples to reconnect through dancing," states Robert.  On Slice Television's "Till Debt Do Us Part", Robert and Beverley were asked to help a couple with financial problems learn to Tango in an effort to re-balance the "lead and follow" in their relationship, while W Network's "Groomed", the Tangs helped a groom learn to Waltz, develop social etiquette skills, and surprise his bride on their Wedding Day by leading her in the dance.  This time, however, they've gone from guest stars to leading players, and they're inviting Burlington residents to join them on camera.
On Wednesday, December 5th CBC Newsworld will be sending a production team to film "Salsa Wednesday" at 2020 Lakeside Ristorante in downtown Burlington.  This event is open to the general public who can view the filming and participate in the free "For Absolute Beginners Salsa/Latin" lesson hosted by the Tangs, with music and DJ provided by Burlington's Gigs Entertainment.  The film crew will return on Thursday, December 6th to the DanceScape studio.
For more information, call (905) 633-8808, visit www.dancescape.com/lessons, or e-mail info@dancescape.com.
###
About Robert Tang and Beverley Cayton-Tang
Beverley and Robert are former 3-time Canadian and 2-time North American Undefeated Amateur Standard Ballroom Champions, having represented Canada at five World Amateur Standard Championships.  They were consultants to the author of a book about competitive Ballroom Dancing entitled, "Ballroom Dancing: The Rhythm, Romance and Style" and were also featured in it.  They have appeared on many television shows on Slice, W-Network, HGTV and CH Television.  Their new instructional DVD, "DanceScape For Absolute Beginners Ballroom Dancing" is available locally at Promises & Lace and Brant Florist in downtown Burlington.
Upcoming Events
May
25
Fri
Start of Milton Spring Group Classes
May 25 @ 7:30 pm – 9:00 pm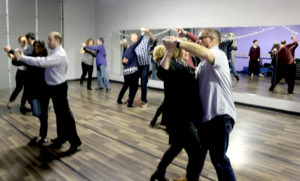 danceScape SPRING 2018 Group Classes in Ballroom & Salsa/Latin start the week of May 25th in Milton. Supervised Practices available Mondays at 8:00 p.m. in downtown Burlington (Package of 10 practices works out to $5.00 pp). Flexible monthly flexplan payment plans available, join today!
Jun
23
Sat
Summer Solstice by the Lake
Jun 23 @ 3:00 pm – 9:00 pm
SUMMER SOLSTICE BY THE LAKE
Saturday, June 23rd, 2018 at 3 p.m.
Venue: 132 North Shore Blvd. East, Burlington
In Support of the Ontario Pain Foundation
Romantic Soirée Donation
RSVP: 905-592-1516, Email: yashpal@mcmaster.ca
$45 cash or cheque to The Ontario Pain Foundation
Multicultural Entertainment, Dancing, Music, Fun, Food, Frivolity, Frolicking
Come to this exciting evening to celebrate the summer solstice – enter a magical world by the lake, where anything can happen, from enchanting undulating music, to mesmerizing dancing, to awesome appetizers, to delectable dinner, to decadent dessert, with soft drinks, beer, white wine & red wine. Bring your family (free for children), friends and celebrate with us this beautiful day. This is a fundraiser for the Ontario Pain Foundation, supporting the people with chronic pain with many educational projects, pain management and knowledge.
PROGRAMME
3:00 p.m. arrival to Scottish piper, followed by 
Salute to the Sun – Surya Namaskar
Ukrainian Fold Dancing – Tyrsa Ukrainian Dance School
Highland Dancing
Indian Classical Dance
Serbian Folk Dancing
danceFLOW qigong/taichi – Robert Tang & Beverley Cayton-Tang, Award-winning dancers from danceScape: Adding FUN "Sparks & Sparkles" to everyone's "Life Energy" or "Chi/Qi" – Mindful Meditation and Movement to Ballroom, Latin & World Music.
Delectable dinner
Supporting the Ontario Pain Foundation
The Ontario Pain Foundation is an independent not-for-profit organization incorporated in the Province of Ontario, with the purpose to advance education and awareness for the benefit of people who live with debilitating pain. The Foundation supports the local Halton/Hamilton Chronic Pain Support Group, provides support for similar groups in Guelph and St. Catharines, and holds training courses in pain management for local healthcare professionals. These activities are carried out as a community service to the 20% of our population that lives with chronic debilitating pain.
Promoting programs & services targeted at introducing, promoting & preserving the cultural & artistic expressions, experiences & abilities of immigrants to enrich Canadian society.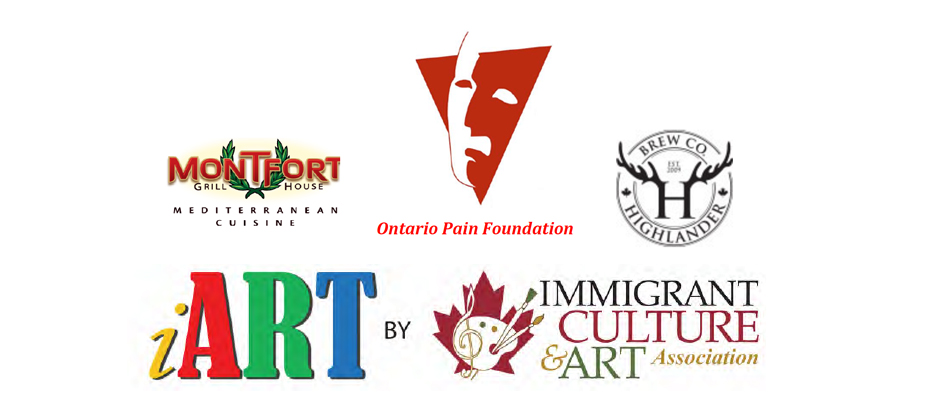 A Fundraiser for the Ontario Pain Foundation
RESERVATIONS
Cost: $45.00 per person
Contact Kiran @ 905 592-1516 or yashpal@mcmaster.ca
Video App – Learn to Dance Online
Shall We Dance?
danceScape Music Playlists
danceScape Radio Podcasts
Archives